St. Thomas
St. Thomas Overview
St. Thomas is the economic, commercial and tourist hub of the U.S. Virgin Islands. The Cyril E. Airport serves tourists coming into St. Thomas. Most U.S. flights are not direct and will stop in either Miami or San Juan, Puerto Rico. At the same time, St. Thomas has one of the busiest and most vibrant cruise ship terminals in the entire Caribbean, and most visitors access the island from the port in Charlotte Amalie. A trip to the Caribbean is all about island hopping, and St Thomas Travel is no different. If you plan to stake out a deck chair on a luxury cruise line, then do not expect to spend any more than two days in St. Thomas before moving on to the next sun-kissed island. As they say in the Caribbean: You gotta' go to come back.
Charlotte Amalie is the capital of the USVI territory. It has been the center of activity since colonial times, when the port was still part of the Danish West Indies. St. Thomas, St. John and St. Croix were sold to the United States in 1916. Charlotte Amalie and the surrounding district are home to nearly half of the residents in St. Thomas. The island, however, is broken into three regions: East End, West End and North Side. In other words, if you rent a car on your vacation and need directions, you should have no problem finding your way around. However, many of the roads on the island are steep and winding, so be sure to drive carefully. The mountainous landscape of St. Thomas provides some of the most panoramic views in the Caribbean. St. John, Tortola and Jost Van Dyke are all visible on a clear day, and St Thomas Travel is all about clear and sunny days.
Visit St. Thomas
Dronningens Gade is the main thoroughfare in Charlotte Amalie, and its narrow, cobbled street is lined with elegant Danish architecture. Old colonial warehouses have been turned into colorful storefronts, which sell everything from upscale designer brands to T-shirts and souvenirs. St. Thomas is a hotspot for duty-free shopping, and this is one of the reasons why it is such a popular destination for cruise ships. There is said to be over 100 jewelry stores in Charlotte Amalie, and when you walk down Dronningens Gade, every single on of them haggles for your attention. If you want to pick up an engagement ring for that certain someone, then St Thomas Travel is your best bet of finding a good deal.
From global cuisine to distinct island specialties, St. Thomas is a small island but a world-class dining destination. The island is scattered with casual, seaside bars and open-air bistros serving everything from tapas to fish soup. If you are looking for a dining environment that is more upscale, put on your best white linen shirt and head over to The Agave Terrace. It is billed as the island's celebrity restaurant. From Caribbean specialties like stewed oxtail and goat curry to basic American fare, St Thomas Travel has a little bit of everything.
Top St. Thomas Activities & Things To Do:
1. 40 major beaches
2. Sailing
3. Fishing
4. Scuba diving
5. Snorkeling
6. Jet skiing
7. Windsurfing and kiteboarding
8. Golf and tennis
9. Spa
10. Whale watching
11. Eco-tours
12. Duty free shopping
Top St. Thomas Attractions and Sightseeing
1. Coral World Ocean Park
2. Paradise Point Skyride
3. Blackbeard's Castle
4. St Peter's Great House and Botanical Gardens
5. Magens Bay
6. 99 Steps
7. Drake's Seat
8. Fort Christian
9. Government House
10. St Peter Mountain
View Larger Map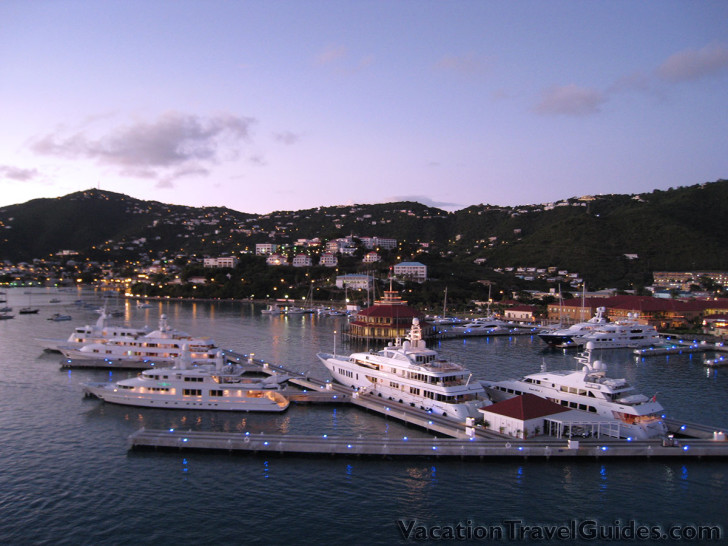 US Virgin Islands – St Thomas Havensight Harbor Long Bay Sunset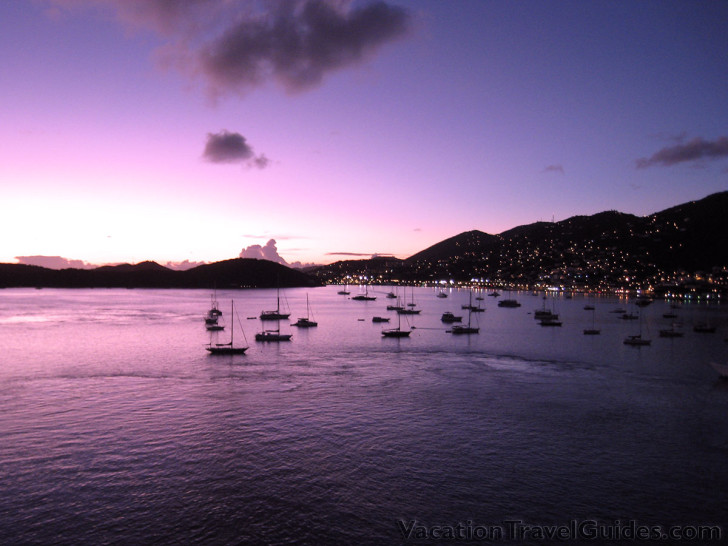 US Virgin Islands – St Thomas Long Bay Boats Sunset