St. John
St. John Overview
Idyllic and eco-friendly, St. John is the smallest of the U.S. Virgin Islands. Despite the fact that it only takes 20-minutes to reach St. John from the Red Hook ferry terminal in St. Thomas, once you dock at Cruz Bay, it feels as if you've been transported back in time to a Robinson Crusoe style paradise. Free from the cruise ship terminals, high-rise hotels and hustle and bustle that defines its sister island St. Thomas, St. John is known for its stunning picturesque beaches, tranquil bays and colorful coral reefs. St John Travel is for those people looking for the quieter side of the Caribbean. Sure, there's reggae in St. John, and you can still belly-up to the seaside bar in your Hawaiian shirt and Ray-Bans and order a rum punch or a mojito, but the real beauty of the island is its lush green hills, turquoise waters and uncommercialized vibe. There's not even an airport. How laid-back is that?
Visit St. John
St. John is nine miles long and three miles wide. Its biggest claim to fame is that two thirds of the island is comprised of the Virgin Islands National Park. In other words, nearly the entire island is made up of unspoiled natural beauty. From hiking trails and scenic summits to ranger guided safari tours, St John Travel attracts people who really want to get away from it all. The island is world-renown for its flora and fauna and its untouched forests, so whether you rent an eco-cottage or set up a campsite in the national park, the postcard perfect landscape offers countless days of relaxation and tranquility. In fact, it is the perfect Caribbean island for nature lovers and outdoor enthusiasts. If you are looking to get far from the maddening crowd, then St John Travel is for you.
When it comes to the restaurants on the island, St. John opts for quality over quantity. The ferry from St. Thomas docks in Cruz Bay, and this colorful seaside hamlet is the tourist and commercial hub of the island. From open-air bistros serving blackened mahi-mahi and cold beer to formal, candle-lit restaurants, St. John might be small, but there are still plenty of places to get a good meal. When you order that red snapper sandwich, be sure to wash it down with an Island Hopping IPA or a Liquid Summer Ale; both beers are made locally at the St. John Brewery. When you are in St. John, the good life just keeps getting better.
Are you familiar with those kitschy T-shirt and souvenir shops that plaque many coastal destinations? You won't find them on the island of St. John. If you want that sort of vacation, then head to the Jersey Shore. St John Travel is about getting away from that sort of thing. The boutique shops sell funky crafts, quality jewelry and resort wear. The island is home to many local artists, so galleries and studios dot the streets of Cruz Bay.
Top St. John Activities & Things To Do:
1. Scuba diving
2. Horseback riding
3. Donkey trail rides
4. Rock climbing
5. Charter boats
6. Kayaking
7. Catamarans
8. Sport fishing
9. Hiking
10. Jeep tours
11. Beach bumming
12. Limmin. It is the Barbadian word for chilling out
Top St. John Attractions and Sightseeing:
1. Cruz Bay
2. National Park Visitors Center
3. Ivan Jade Museum
4. Trunk Bay Beach
5. Trinity Church
6. Excursion to the British Virgin Islands
7. Coral Bay
8. Annaberg Plantation
9. Bordeaux overlook
10. Catherineberg Sugar Mill
View Larger Map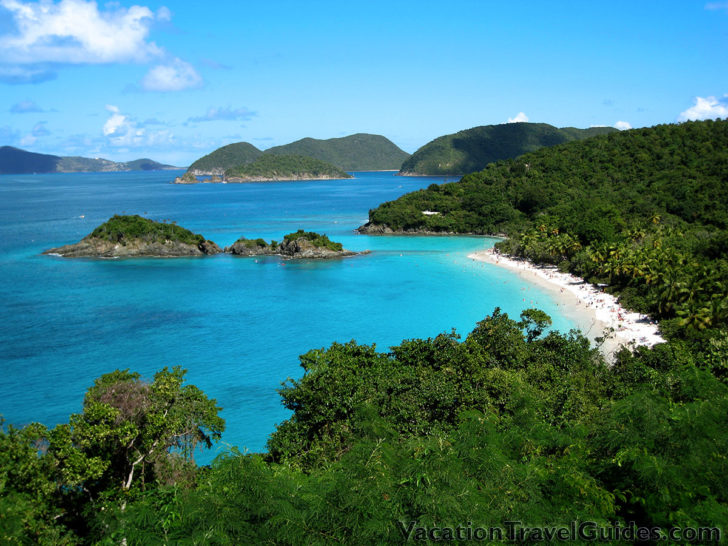 US Virgin Islands – St John Trunk Bay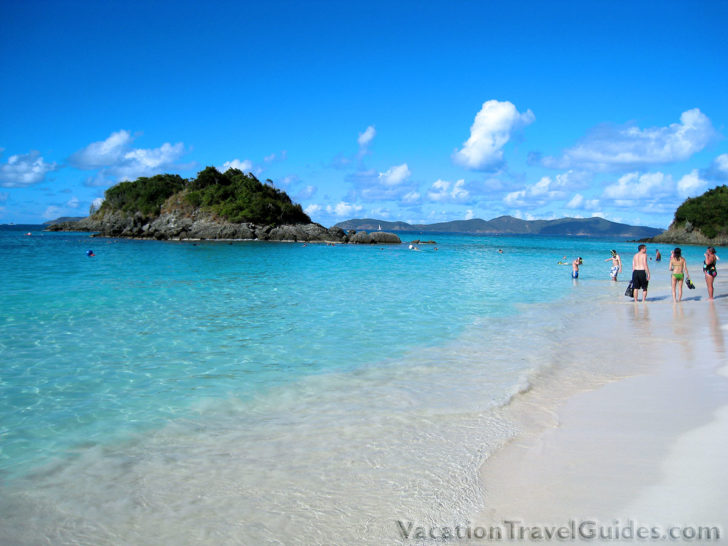 US Virgin Islands – St John Trunk Bay Beach