Krakow
Krakow Overview
Located in southern Poland, not far from the Slovakia border, Krakow is one of Poland's oldest cities. Evidence of human settlement in the area goes back to the Stone Age, and the original town of Krakow was built in the 7th century. Its convenient access to the Vistula River enabled the city to expand rapidly and become an important center of trade and learning. Krakow's Jagiellonian University, founded in 1364, is one of the world's oldest universities and boasts such famous alumni as Nicolaus Copernicus and Karol Wojtyla, later Pope John Paul II.
Krakow was Poland's capital for over 500 years in the Middle Ages and even existed as an independent duchy for a few decades in the 19th century before rejoining Poland in the modern era. Today, Krakow is one of Poland's most cosmopolitan cities, and a center of Polish cultural life and history. Krakow travel enables the visitor to experience both traditional Polish food, music, and art while still enjoying the pleasures of modern European life.
Visit Krakow
Krakow is one of Poland's top tourist attractions, combining vibrant, modern shopping, dining, and nightlife with an ancient history still visible in the medieval structures of the Rynek Glowny (Main Market Square) in the Old Town. Krakow travel offers something for almost every type of traveler.
Krakow's must-see destination is Wawel Castle. This massive 14th-century Gothic castle, towering over the city from its position atop Wawel Hill, was once the home of Poland's royal family and still houses the Polish royal jewels. Another popular place to visit is the Wieliczka Salt Mine, a 13th-century mine just outside the city that features numerous salt-rock sculptures carved by miners over the centuries, including an entire chapel. Krakow is also a jumping-off point for visitors to Auschwitz, the former Nazi concentration camp that is now a memorial to the victims of one of the twentieth century's darkest times. Many hotels and Krakow travel agencies can arrange bus trips to Wieliczka and Auschwitz.
Krakow also offers a convenient base for tours and exploration through southern Poland, as many important tourist attractions are only a day trip from Krakow. These include the Tatra Mountains and the village of Zakopane, popular for hiking and sightseeing; the majestic Dunajec River Gorge; Ojcowski National Park, a forested area home to ruined Gothic castles; and the town of Czestochowa, home to the famous "Black Madonna" shrine.
Sheltered by the Tatras to the south, Krakow has a cool, temperate climate, rarely going below freezing in the winter or rising above 80 F in the summer. It can be rainy in late summer, so spring and early summer are the best times for Krakow travel.
Top Krakow Activities
1) Walking tour of medieval Old Town
2) Having coffee, or something stronger, in a cafe
3) Walking or relaxing in Planty Park
4) Day trips to Tatra Mountains
5) Opera or theater
6) Museums, including National Art Collection at Wawel Castle
7) Hiking in Ojcowski National Park
8) Clubbing after dark in the Old Town
9) Boat cruises on Vistula River
10) Shopping flea markets at Hala Targowa and Plac Nowy, or upscale stores at Galeria Krakowska
11) Communism Tour (in a Communist-made Trabant automobile)
12) Swim or slide at Park Wodny water park
Top Krakow Area Attractions & Sightseeing
1) Wawel Castle and Wawel Cathedral
2) Wieliczka Salt Mine
3) Rynek Glowny (Main Market Square) with Sukiennice Cloth Hall and St. Mary's Basilica
4) Auschwitz
5) Jasna Gora monastery, Czestochowa
6) Rynek Underground archaeological museum
7) Zakopane Village
8) Groteska Puppetry Theater
9) Jewish Heritage Route in Kazimierz (Jewish Quarter)
10) Jagiellonian University
11) Dunajec River Gorge
Top Krakow Hotels
1) Hotel Copernicus
2) Bonerowski Palace
3) Hotel Wentzl
4) Hotel Radisson SAS
5) Ostoya Palace
6) Hotel Sheraton
7) Hotel Amadeus
8) Hotel Stary
9) Hotel Polski
10) Hotel Rubinstein
View Larger Map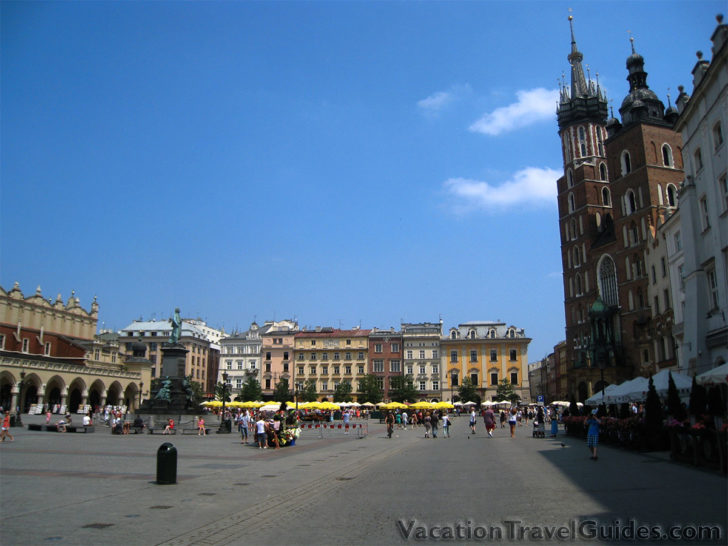 Krakow, Poland – City Center Rynek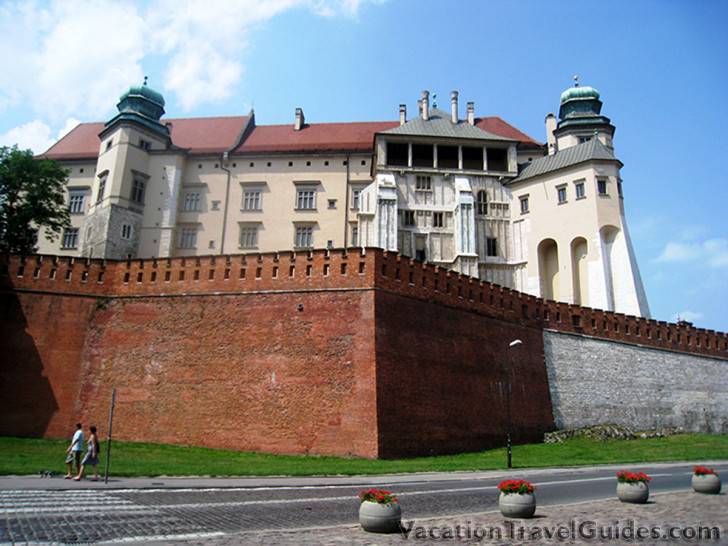 Krakow, Poland – Wavel Castle