Las Vegas
Las Vegas, dubbed the Sin City, is most widely known as a place where adults can go and test their luck in some of the city's many gambling casinos. It is also known for its colorful lights, exciting shows and drive-through wedding chapels. Today, the city is all of that and much more. There is now a vast array of fun activities for families as well.
Las Vegas Overview
When many people think of Las Vegas travel, they think of bright lights, spectacular hotels and exciting casinos. However, it was not always this way. At one time, Las Vegas was full of rivers and marshlands. Over some time, these vibrant wetlands dried up and became a desert.
Some of the water remained trapped in the ground though, occasionally resurfacing to feed the beautiful plant life of the desert. This area was part of the Mojave Desert and remained hidden to anyone but Native Americans until the year 1829. This is when some Mexican explorers found the area and named it Las Vegas, which means "the meadows".
During the early 1900s, the city had become a regular stop along the route of the developing railways. This encouraged more people to settle in the city and triggered a large growth in such things as stores, boarding houses and saloons. Gambling was legalized in Nevada during the early 1930s, which encouraged the construction of various casinos and the beginnings of the city as we know it today.
Visit Las Vegas
There are many fabulous vacation destinations all across the country for people to explore. There is Florida with its beautiful weather and fun theme parks, and there is the bustling city of New York or the glamorous Los Angeles. However, among all of these wonderful places, Las Vegas travel remains one of the most popular destinations of all.
With all of the city's lights, fun and excitement, people want to return here year after year. Maybe it is the spectacular shows, the magnificent hotels or the excitement of its gambling casinos. Whatever it may be, Las Vegas is an exciting city that offers enjoyment for visitors of any background.
Favorite Activities in Las Vegas
Not only is Las Vegas known for its many fun casinos, but it is also known for the magnificent shows it offers. There are shows for most any member of the family including musicals, cabaret shows and magical shows. Las Vegas offers something for everyone to do, and the following activities are some of the most popular today.
*Play Slots in One of the City's Many Casinos
*Walk the Las Vegas strip
*Catch a Show at One of the City's Many Theaters
*Take Part in a Poker Tournament
*Take Gambling Classes
*Take a Ride in a Racecar at the NASCAR Driving School
*Get Married in One of the City's Many Wedding Chapels
*Spend a Day at Treasure Island Hotel's Spa
*Take a Helicopter Ride Over Hover Dam
*Visit Mandalay Bay Hotel's Shark Reef
*Ride the Manhattan Express Roller Coaster at the New York Hotel
*Enjoy the Music and Lights of the Bellagio Fountain
*Ride the X Scream Madness Roller Coaster at the Stratosphere
Most Popular Attractions in Las Vegas
Planning your Las Vegas travel agenda may be a bit difficult with so many fabulous things to see and do. In fact, there are so many wonderful attractions in Las Vegas that you will need several days to explore them all. Some of the terrific attractions you may want to add to your agenda are as follows.
*Bellagio Fountains
*Las Vegas Strip
*The Stratosphere
*Pole Position Speedway
*Fremont Street
*The Bank at Bellagio
*The Playboy Club
*The Palms
*Palms Casino Resort
*LAVO
*Treasure Island Hotel
*Circus Circus Adventure Dome Theme Park
*MGM Grand Hotel and Casino's Lion Habitat
*Secret Garden and Dolphin Habitat
When planning a trip to Las Vegas, you will want to consider adding some of the above activities and attractions to your agenda. From its fun theme park and roller coasters to its exciting casinos and spectacular shows, Las Vegas is a fun-lovers paradise. Whether you are visiting the city with your partner or your entire family, Las Vegas offers fun and excitement for everyone!
Las Vegas is the city of fun and thrills!
View Larger Map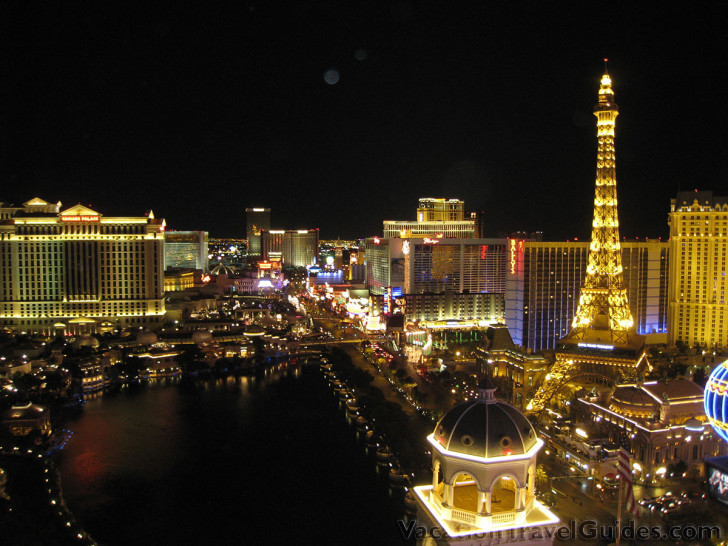 Las Vegas, Nevada – Strip at Night