Minnesota
If you like to spend time outside, you'll love Minnesota travel. It offers the best of outdoor activities ranging from summer fun to winter adventures and from exciting urban park opportunities to the calm of pristine wilderness. If you prefer city sights, Minnesota travel offers this as well. Award-winning theaters, a vibrant music scene and sixty museums are just some of the cultural highlights of the Twin Cities, Minneapolis and St. Paul.
Minnesota Overview
The word Minnesota means "sky-tinted water" in the language of the Dakotas, the original Minnesotans. This is a great name for a state with Great Lakes coastline, the headwaters of the mighty Mississippi River, 6,900 miles of scenic rivers and creeks, and an unbelievable 11,800 lakes of 10 acres or larger.
In the 1800s, Northern Europeans became pioneers in covered wagons, blazing a trail westward. They found the land ripe for farming. Author Laura Ingalls Wilder made this era famous in her well-loved Little House on the Prairie book series. With the arrival of trains and industry, St. Paul and Minneapolis grew. Today these cities still show their Northern European roots thanks to grand cathedrals and dozens of Catholic and Lutheran colleges. The city populations now include many races, including significant populations of immigrants from South America, Asia and Africa.
Mild summers offer pleasant 80 degree weather. In winter, snowfall is common but roads are cleared quickly. This is a state that values its outdoors, and many resorts cater to winter sports such as cross country skiing, snowshoeing and ice fishing. Minnesotans rush outdoors for spring and summer fun on the lakes, rivers, state parks, and urban public spaces. Natural areas offer views of caribou and bison, amazing waterfalls, and temperate forests.
Visit Minnesota
Starting far north, the port city of Duluth sits on Lake Superior. The northern region is covered in forests that invite hiking and camping in the summer. Winter sports enthusiasts love the high, pristine snow in a wild landscape. The center of the state is known for 70 scenic golf courses. The side-by-side major cities of St. Paul and Minneapolis are truly cultural havens of art, music, drama, and museums. The cities are also home to great sports teams and extensive biking and walking trails. Minnesota travel often includes the Mall of America with its four floors of 500-plus stores. It even has an indoor amusement park. Among the many Native American and historic sites, the Indian Mounds Park represents the Hopewell civilization, which dates back 2,000 years. Fort Snelling gives visitors a chance to see what life was like when the first European settlers came to the area.
Top Minnesota Activities & Things To Do
1. Shop, dine and have fun at the Mall of America and its amusement park
2. Museum-hop in the Twin Cities
3. Riding a Riverboat on the Mississippi or a trolley boat on Lake Minnetonka
4. Go to a show at one of the state's many professional theaters
5. Boat, Canoe or Kayak the state's many waterways
6. Watch for wildlife: timber wolves, black bear, bison, caribou, whitetail deer, bobcat, marten, and groundhog
7. Camp and hike at many national and state parks
8. Ski, Snowboard, Snowmobile at resorts, wilderness areas and even city parks
9. Ice Fishing with the locals
10. Sledding just about anywhere
11. Fishing in pristine creeks, rivers and lakes
12. Enjoy professional Minnesota Twins Baseball and Vikings Football
Top Minnesota Attractions and Sightseeing
1. Red River Valley resorts
2. Lake Superior shoreline
3. Laura Ingalls Wilder historic village
4. The breathtaking 53-foot Minnehaha Falls
5. Mall of America
6. Award-winning Guthrie Theater and its sightseeing bridge over the Mississippi
7. The Grand Rounds Scenic Byway
View Larger Map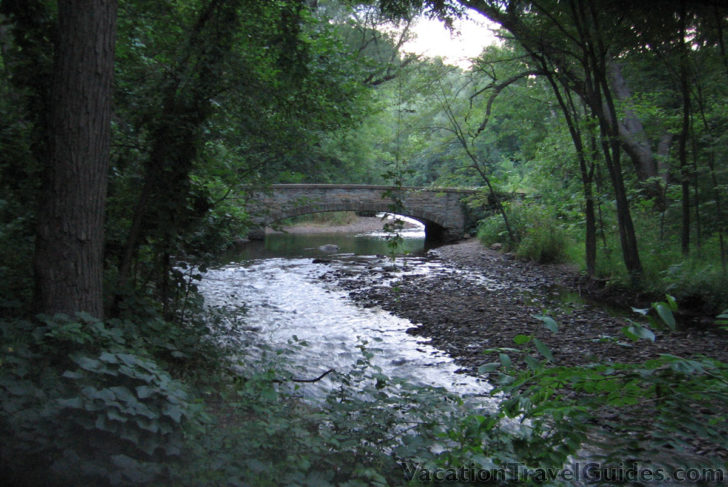 Minnesota Park Hike – River Bridge