Mackinac Island
If you are looking for a peaceful vacation where you can enjoy all the wondrous beauty that nature can offer, Mackinac Island travel is the perfect choice. Mackinac Island is situated between the upper and lower peninsulas of Michigan within Lake Huron and is a popular destination for people who enjoy the great outdoors.
The History of Mackinac Island
Visiting Mackinac Island is like taking a trip back in time. The island is quite small; thus, its roads are traveled solely by way of horses or bicycles. However, despite its small size, Mackinac Island travel is teaming with adventure and history. While strolling along the two main roads of the island, Main street and Market street, you will see unique architecture from the early to late 1800s.
Sitting on top of a steep hill above Main street, you will find the intriguing, Fort Mackinac. Fort Mackinac's magnificent, stone wall was built in the late 1700s, and its buildings were built in the early 1800s. Nearby, is the Grand Hotel, which was once a summer palace built in 1884 and now serves as a luxury hotel.
What Draws People to Mackinac Island?
Life can be extremely hectic, and if you want to escape the stresses of everyday life, Mackinac Island is the place for you to go. This island is one of the most beautiful, natural vacation destinations in the world, especially in the Autumn when the trees are ablaze with stunning fall colors.
This is also a great place to go fishing, and some people even say it is the best place anywhere. Here you will find a vast array of fish in the waters of Lake Huron. There are few places that can compare to the awe inspiring natural beauty of Mackinac Island. From fishing and boating to hiking and golfing, this is the absolute perfect place to unwind and relax.
Top Mackinac Island Activities & Things To Do
As stated above, Mackinac Island travel offers an abundance of adventure. Whether you choose to take a ride in a horse-drawn carriage or take a Haunted History tour, there is certain to be plenty of activities to keep you and your family occupied. Be sure to include some of the following activities to your must-do list while visiting the island.
*Play a Relaxing Round of Golf
*Take a Ride in a Horse-Drawn Carriage or Sleigh
*Go Fishing or Swimming in Lake Huron
*Take a Haunted History Tour
*Sample Some of the Local Dishes
*Go Shopping in Some of the Island's Quaint Shops
*Explore Fort Mackinac
*Visit One of the Many Local Fudge Shops
*Go Sailing on Lake Huron
*Go Birdwatching While Hiking Along a Nature Trail
*Watch the Spectacular Fireworks at St. Ignace
Top Mackinac Island Attractions and Sightseeing
If this is to be your first time visiting Mackinac Island, you will not be disappointed. Mackinac Island travel offers some of the best sightseeing anywhere in the state of Michigan. Many people will even go so far as to say that it offers some of the best attractions found anywhere. The following attractions are just a few of the great things to see on Mackinac Island.
*Fort Mackinac
*The Grand Hotel
*Matthew Geary House
*Ryba's Fudge Shop
*Lake Huron
*Arch Rock
*Pink Pony Restaurant
*Caddywampas Toy and Novelty Store
*The Mackinac Bridge
*The Butterfly House
*St. Ignace
The natural beauty of Mackinac Island attracts hundreds of visitors every year. There are many fabulous things to see and do while visiting here, and the best thing about the island is that there are no cars. The entire island is traversed solely by way of foot, bicycles or horses, making it a wonderful place to breathe fresh air, relax and enjoy all of the beauty and wonders that nature can offer.
View Larger Map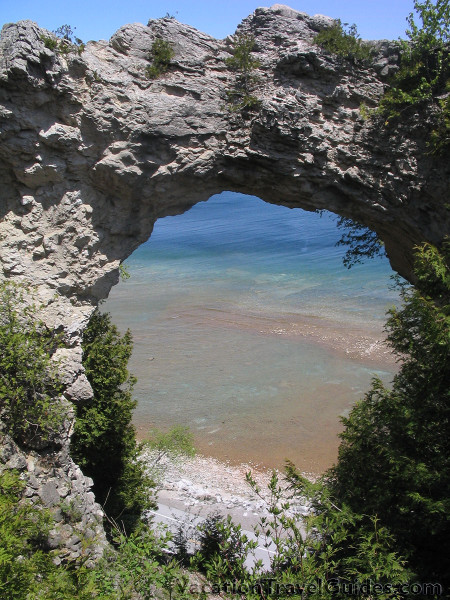 Michigan Mackinac Island – Arch Rock