Maui
Maui is one of the largest Hawaiian Islands, and it gets its name from a Polynesian navigator by the name of Hawai'iloa, who is credited for naming the Big Island as well. Hawai'iloa named his son after the demigod, Maui, and in turn, he named the island after his son. Maui is also known as the Valley Isle because of its many valleys that sit among its magnificent volcanoes.
Maui's Diverse People and Rich Culture
The Hawaiian Islands are home to a broad range of ethnic groups. While native Hawaiians are from Polynesian descent, there are many other ethnic groups here as well. About a third of the people residing on the islands are white, one fourth are Japanese and approximately 15 percent are of Filipino descent.
However, there are many other ethnic groups on the islands as well. Other groups you will find in Maui include Vietnamese, Chinese, Koreans, Samoans, Cambodians and Tongans. During the 1800s, a large number of Asians came to the islands to work on the pineapple and sugar plantations. While many of them went back home after some time, a significant amount of them stayed.
Why You Should Visit Maui
A vacation on the breathtaking, Maui Island, is sure to be one that you will cherish for many years to come. With its azure skies, magnificent surfs and friendly people, you may even wish to extend your stay. There are many great things to do while you are in Maui, from hiking and luaus to taking a cruise or a tour.
In fact, you will find so many activities to partake in while visiting the island, you may have a hard time choosing one. No Maui travel agenda would be complete without attending a traditional luau. If you wish you can even try your hand at the hula as well. There is no better way to spend a fun evening than attending one of these Hawaiian celebrations.
One of the great things about Maui is that any time of the year is a great time to vacation here. In most areas, there is not much difference in the weather no matter what time of the year it is. Even in winter, temperatures typically stay at or above 70 degrees Fahrenheit.
Top Maui Activities & Things To Do
As stated above, there are many great things to do while visiting the lovely island of Maui. Thousands of people flock to Maui every year to experience its warm weather and exciting adventures. In fact, Maui travel has become extremely popular and is one of the most sought-after vacation spots in the world. While you are on the island, you may wish to add some of the following activities to your agenda.
1. Attend a Hawaiian Luau
2. Take a Helicopter Tour
3. Horseback Riding
4. Take a Road to Hana Tour
5. Relax on a Golden Beach
6. Go Swimming in the Ocean
7. Surf the Magnificent Waves
8. Go Scuba Diving
9. Go Hiking Through a Lush Rainforest
10. Play a Relaxing Round of Golf
Top Maui Attractions and Sightseeing
In addition to having many things to do in Maui, you will find a vast array of wonderful things to see on the island as well. Maui travel offers some of the most spectacular attractions you will find anywhere. The following attractions are some of the most popular; however, you will want to make sure you bring a camera and take plenty of pictures!
1. The Scenic Road to Hana and Waimoku Falls
2. The Magnificent Haleakala Volcano
3. The Historic Town of Lahaina
4. The Lovely Ka'anapali Beach
5. The Lao Valley State Park and the Iao Needle
6. The Quaint Town of Paia
7. The Old West Town of Makawao
8. The Molokini Crater
9. The Sunny Wailea Beach Resort
Best Accommodations in Maui
When planning a trip to Maui, you will also want to make sure you find accommodations that are comfortable and offer easy access to popular attractions. There are many such accommodations on the island. There are also rooms and lodging that will fit any budget. The following accommodations are some of the most popular in Maui today.
1. Hotel Hana-Maui
2. Westin Maui
3. AAA Five-Diamond Ritz Carlton Kapalua
4. Kapalua Bay Hotel
5. The Aloha Cottages
6. The Old Wailuku Inn
Maui travel is extremely popular among many people today. This beautiful island offers a broad range of adventures and fun. If you are looking for a vacation that offers relaxation and excitement, alike, Maui is the perfect choice!
View Larger Map
Hawaii Maui – Big Beach – Oneloa-Makena-Beach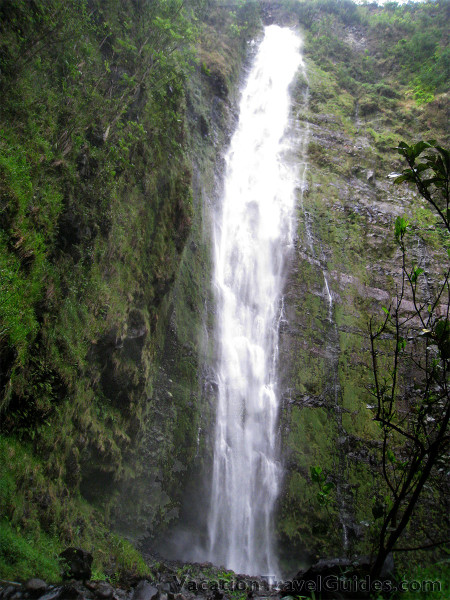 Hawaii – Maui Waterfall – Waimoku Falls