Kauai
Kauai is the oldest of all of the Hawaiian Islands and is a literal tropical paradise, surrounded by the glistening waters of the Pacific. Kauai was given the name of the Garden Isle due to its many colorful flowers and amazing rainforests. With its sunny beaches, colorful flora and fun attractions, Kauai promises to be the ultimate in vacation destinations.
Experience Hawaii's Culture in Kauai
Kauai travel offers you the opportunity to mingle with a broad range of diverse residents who make you feel right at home. The island is literally teeming with culture and intriguing stories. A major part of Hawaiian culture is their beautiful artwork, and here on Kauai, you will be able to experience watching various artisans performing their crafts.
Another large part of Hawaiian culture is their music, which you can enjoy while attending a traditional luau. The island is also popular for its many varieties of fresh fish, which is an essential part of the local's diet. Other delicious delicacies you will find on the island include coconuts, papayas, mangoes, avocados and guavas.
What Makes Kauai So Appealing?
There is a vast array of beauty and adventures to explore on the island of Kauai. A large portion of Kauai is teeming with nature, and there are a lot of hiking trails that you can take to explore its beauty. Some of the many things you can view while trekking Kauai's trails include spectacular waterfalls, Waimea Canyon and unique wildlife.
If you wish to relax on a warm and sunny beach, Kauai travel will not disappoint you. There are many fabulous beaches on the island where you can spend a day sunbathing, swimming or surfing. You will also find a broad selection of lodging that offers terrific amenities and easy access to the island's most popular attractions.
Top Kauai Attractions and Sightseeing
Kauai travel offers an abundance of fun and exciting activities for you to partake in. No matter what part of the island you decide to visit, there is sure to be a glistening beach where you can relax and have fun. From body boarding and surfing to swimming and snorkeling, there is something for the entire family to enjoy. The following activities are just some of the most popular among tourists today.
1. Hike Through a Lush Rainforest
2. Go Swimming on the South Shore
3. Go Snorkeling at or Sunbathing on Poipu Beach
4. Go Surfing at Shipwreck Beach
5. Go Body Boarding or Fishing at Hanalei Bay
7. Go Scuba Diving at Tunnels Beach
8. Play a Round of Golf at Poipu Golf Resort
9. Explore the Waimea Canyon
10. Attend a Traditional Hawaiian Luaua
Top Kauai Activities & Things To Do
In addition to the many fun activities that Kauai travel has to offer, there is a broad range of things to see as well. As stated above, the majority of Kauai is made up of lush flora and nature, making for some very lovely pictures, indeed. If you want to make the most out of your trip to Kauai, make sure to add the following attractions to your travel agenda.
1. Poipu Beach
2. Shipwreck Beach
3. Hanalei Bay
4. Tunnels Beach
5. Kauai Lagoons
6. The Kukui Trail
7. Waimea Canyon
8. Kuilai Ridge Trail
9. Kokee State Park
10. Lava Cave
Most Popular Accommodations in Kauai
Kauai offers an array of beauty and many exciting activities to partake in. However, for you to make the most of your vacation, you will want to choose lodging that will make you feel at home. There are many accommodations in Kauai that will allow you to relax and unwind after an exciting day of adventure, and the following accommodations are just a few of the most popular.
1. Grand Hyatt Kauai Resort and Spa
2. Koa Kea Hotel and Resort
3. Kauai Coast Resort
4. St. Regis Princeville Resort
5. Sheraton Kauai Resort
6. Aloha Beach Kauai Hotel
7. Kauai Sands
If you are looking for a vacation destination that offers fun and relaxation, alike, Kauai is the perfect choice. Kauai has a wealth of things to see and do, and you will most likely want to return again and again. With its gorgeous nature, pristine beaches and rich culture, a trip to Kauai promises to be a cherished vacation, indeed.
View Larger Map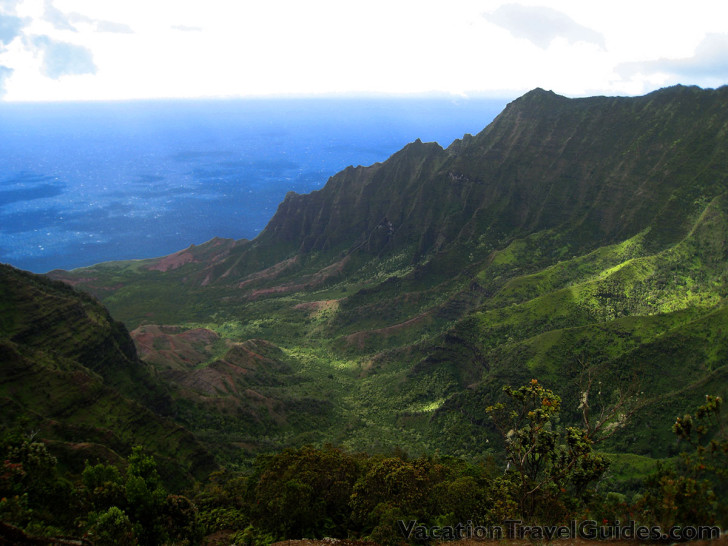 Hawaii Kauai – Kalalau Valley – Lookout and Hike