Big Island
Big Island travel offers many natural wonders for visitors to explore. However, the biggest attraction today is Kilauea, the most active volcano in the world. For the past two decades, Kilauea has been actively erupting, making for a magnificent sight indeed. There are many other terrific attractions on the Big Island as well, and below we will take a look at some of the most popular.
Geographical and Cultural Diversity
When you arrive on the Big Island of Hawaii, you will be absolutely amazed by the geographical diversity of the land. From its sparkling waters and golden coastline to its magnificent volcanoes and spectacular canyons, Big Island offers many fabulous things for you to explore.
Not only is the Big Island's land rich in diversity, but its people are as well. You will find Hawaiian culture in every corner of the island. Whether it is in the form of flower leis, hula dancing or Hawaiian arts and crafts, there is sure to be something to make your trip quite memorable, indeed.
What Makes Big Island Travel so Alluring?
You will find many exciting things to partake in while visiting the Big Island. Located in the middle of the majestic Pacific, one of the popular activities visitors choose to participate in is exploring the depths of the ocean. Whether you choose to go swimming among exotic fish, explore fabulous reefs or observe whales and dolphins, this is a trip you will not soon forget.
For a more relaxing afternoon, you may wish to set out for one of the many golden beaches on the island. One of the most popular beaches is Kua Bay, where you can sunbathe, while viewing the beach's scenic surroundings. You may also choose to go swimming or snorkeling alongside green turtles in the cool, clear water.
Top Big Island Activities & Things To Do
Big Island travel offers a wealth of fun activities. Spend your morning exploring the local shops, taking a break for lunch and some of the Big Island's delicious delicacies. After lunch, hike along one of the many trails leading to some of the most magnificent volcanoes anywhere. These are just some of the things to do on the Big Island. Some more great activities are as follows.
*Attend a Hawaiian Luau
*Go Shopping in Big Island's Quaint Shops
*Go Dolphin and Whale Watching
*Take an Exciting Helicopter Tour
*Climb Aboard a Deep Sea Fishing Charter
*Explore Sea Caves While Kayaking
*Sunbathe on Kua Bay
*Go Swimming in the Waters of Kaunaoa Bay
*Go Snorkeling in the Waters of Mauna Kea Beach
*Go Hiking in Hawaii Volcanoes National Park
*Take a Walk Through the Hawaii Tropical Botanical Garden
*Visit the Pana'ewa Rainforest Zoo
Top Big Island Attractions and Sightseeing
Not only is there a vast array of fun things to do on Big Island, but there are also many fabulous things to see. From lush rainforests and majestic volcanoes to exotic animals and traditional art, there is something to explore around every corner. When creating your Big Island travel agenda, be sure to include the following popular attractions.
*Hawaii Volcanoes National Park
*Kona Coast
*Kona Coast State Park
*Kua Bay
*Mauna Kea Beach
*Kaunaoa Bay
*Mount Kilauea
*Waipio Valley
*Mount Mauna Loa
*Hawaii Tropical Botanical Garden
*Mauna Loa Macadamia Visitor Center
*Pana'ewa Rainforest Zoo
Hawaii's Big Island is a terrific place to go if you want to get away and relax. Here, you will find an abundance of fun and exciting activities, combined with a spectacular landscape that will leave you in awe. When you visit the Big Island, you are sure to have such a great time that you may even want to extend your stay!
View Larger Map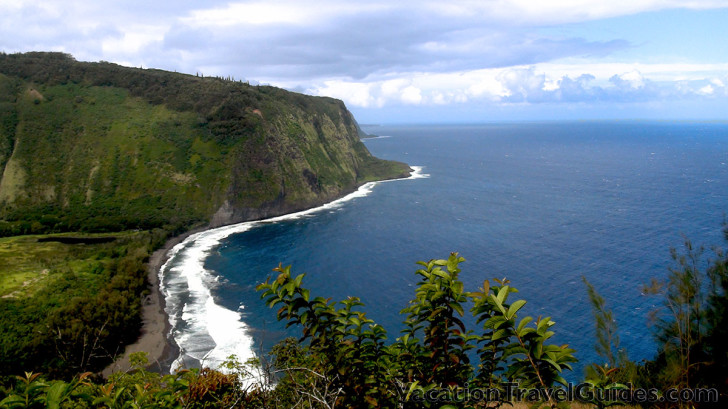 Hawaii – Big Island Waipio Valley