Hawaii
Hawaii travel has been quite popular for several decades and for good reason. Many people flock to Hawaii every year to experience the island's tropical paradise. From sparkling beaches and lush rainforests to magnificent lava formations, Hawaii promises to be a vacation you will remember for many years to come!
Hawaii is composed of four key island: Oahu, The Big Island, Mauai and Kauai, with each island offering something completely amazing and unique. From the gorgeous waterfalls and beaches of Maui, to the pristine beauty and gorgeous canyons of Kauai, to the history and Pearl Harbor on Oahu and finally the Volcano and beautiful landscape of the Big Island. Hawaii is absolutely amazing and there is something for everyone to see and enjoy!
Hawaii's Rich Culture
When you arrive in Hawaii, you will be welcomed with the Hawaiian's traditional lei, which is their warm greeting to visitors. Hawaiians are friendly people, indeed, and you will find this out quickly when you immerse yourself in all they have to offer. Hawaii's Big Island offers a diverse and rich culture for you to explore.
Here, you will find a unique blend of Hawaiian, Mexican and Portuguese cultures, blended together to make your getaway one of the most interesting you will ever experience. Some of the best ways to immerse yourself in the culture of Hawaii is through attending luaus, visiting the local's ranches or viewing Hawaii's monuments to their Gods.
The Appeal of Hawaii
Hawaii travel offers a vast array of fabulous attractions, adventures and accommodations. Whether you choose to travel alone or with others, there is sure to be excitement for everyone. Hawaii's beaches are reason enough to plan your trip to this lovely island getaway.
No matter if you are looking for a private and romantic beach or a popular and crowded one, Hawaii has them all! There are also many excellent hotels nearby, making a trip to the beach quite convenient, indeed. However, Hawaii's beaches are not its only wonderful attractions. There are many more great things to do in Hawaii.
Hawaii's Attractions and Adventures
When you choose Hawaii travel, you will find that the island is teeming with exciting and fun adventures. In fact, Hawaii is home to some of the most remarkable gifts of nature. While on the island, you will want to be sure to visit Akaka Falls in Akaka Falls State Park. This is the highest waterfall on the island, with its glistening water cascading down a 442 foot cliff.
The islands of Hawaii were shaped due to volcanic eruptions over millions of years. This is one of the things that makes Hawaii so very intriguing. Hawaii's Volcanoes National Park allows visitors to explore the many spectacular lava caves and craters on the island, including the world's most active volcano, Kilauea.
Escaping the Excitement
If you would like to take a breather from all the excitement for a moment, there are many relaxing activities you can engage in on the island as well. With Hawaii's abundance of nature and beauty, it is no surprise that the island is teeming with museums, art galleries and theaters. One of the most popular galleries is Cedar Street Gallery, which houses art work of more than 250 local artists.
Another peaceful escape from all of the island's excitement is golf. Hawaii has many fantastic golf courses that offer fabulous scenery and a relaxing afternoon. There are more than 20 courses for you to choose among on the main island, and many of the courses also offer spectacular coastline views!
Unconventional Tours
There are so many fantastic things to see and do in Hawaii, some people do not know where to begin. If this is the case with you, try taking one of the many guided tours that the island offers. Some of the most popular tours are submarine or scuba diving tours, which will allow you to see such incredible creatures as whales, spotted eagle rays and exotic tropical fish.
Another great way to tour Hawaii is by taking a horseback ride. These tours offer visitors the opportunity to visit places they could not visit by car. Many of these tours will take you to secluded beaches and waterfalls that are known only to locals. Finally, another tour that is gaining in popularity are those that are conducted by helicopters, offering you an exhilarating, bird's eye view of the beautiful islands.
Best Accommodations in Hawaii
When visiting Hawaii, you will find that there are many wonderful accommodations that are convenient to most any attractions on the island. Some of the most popular accommodations today are Big Island Vacation Rentals, which offer you privacy and luxurious rooms. Other great accommodations include the Four Seasons and Hyatt Regency Hotels.
When you choose Hawaii travel, you will want to be prepared for many exciting adventures. There is a vast array of attractions and activities in Hawaii, and it is sure to be a vacation that you will remember forever. Whether you are looking to get away on your own, with your family or your spouse, Hawaii promises to be the vacation of your dreams.
View Larger Map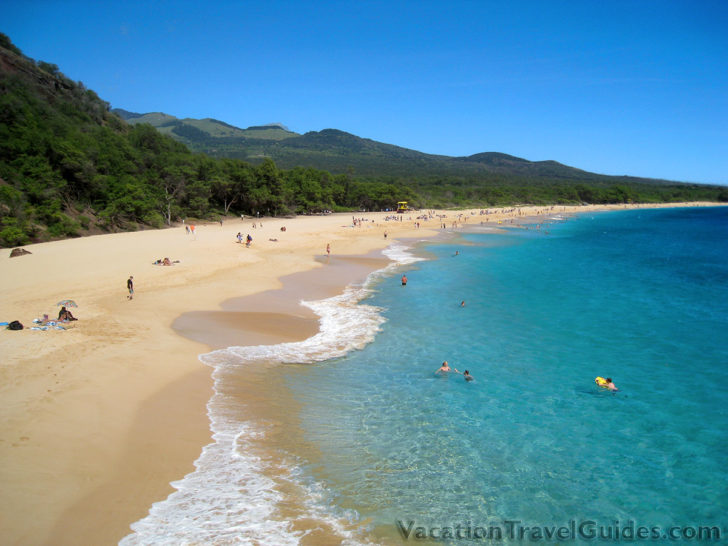 Maui Hawaii – Big Beach – Oneloa Beach – Makena Beach