San Francisco
San Francisco Overview
San Francisco was originally settled by the Spanish, who wanted to take advantage of its excellent natural harbor. After California changed hands between Mexico and America in 1848, gold was discovered in northern California. The gold rush was on, and San Francisco became a boom town. From the earliest days of the gold rush, the city enjoyed a reputation as a wide-open, anything-goes town that made San Francisco a travel mecca. It grew so rapidly as a result of the gold rush that it was impossible for authorities to keep control over it, and the rowdy miners and sailors who flocked to the city usually headed straight to the Barbary Coast district, notorious for its sin palaces. Many Chinese immigrants also came to the city to work on the railroads being built, and helped found San Francisco's Chinatown, the largest in the United States.
After most of the city was destroyed in a terrible earthquake and fire in 1906, San Franciscans rebuilt, and the city expanded rapidly once more, especially after World War II, when it became a center of the 1960s "Summer of Love" movement. Even into the 21st century, San Francisco's reputation as one of America's most colorful and unique cities is going strong.
Visit San Francisco
San Francisco travel has been popular since the 19th century, when the city was dubbed the "Paris of the West." As one of California's largest cities, San Francisco offers a wide variety of pleasure opportunities for its visitors — shopping, dining, sightseeing, and more. San Francisco's rich melting-pot culture only increases the diversity of experiences available, from the authentic Chinese dining available in Chinatown to the funky, unique boutiques, bookstores, and music shops in the Haight-Ashbury neighborhood.
One of the best ways to start your San Francisco travel is with a climb to the top of Coit Tower. Once considered an eyesore, this concrete tower on a hilltop offers a panoramic view of almost the entire city. San Francisco's other iconic structure is the Golden Gate Bridge, and a visit to the bridge — either by a harbor cruise, or walking or driving across — is a must.
San Francisco is famous for its cool, damp, foggy climate. Packing a windbreaker or sweater is a good idea no matter what time of year you're visiting. The weather rarely changes much, so San Francisco travel is pleasant no matter what time of year you go, although winter months can be rainy. Another well-known aspect of San Francisco is its hills. If you're planning to walk around the city, your legs need to be in good shape. Fortunately, public transportation is excellent, including the city's famous cable cars, so it's not that difficult to get around.
Top San Francisco Activities & Things To Do
1) Cross the Golden Gate Bridge
2) Shop or stop for a meal in Union Square
3) Dine and explore the culture in Chinatown
4) Relax in Golden Gate Park
5) Take a bus trip to Muir Woods, Monterey, or the Napa wine country
6) Drive down Lombard Street
7) Take a cruise through San Francisco Bay
8) Ride a cable car around the city
9) Visit the San Francisco Museum of Modern Art
10) Wander through history at the Presidio
11) Visit world-famous music venues like the Fillmore, the Great American Music Hall, and the Boom Boom Room
Top San Francisco Attractions and Sightseeing
1) Golden Gate Bridge
2) Fisherman's Wharf
3) Alcatraz Island
4) Haight-Ashbury
5) "Painted Ladies" — Victorian houses
6) Coit Tower
7) Ghirardelli Square
8) Sea lions at Pier 39
9) Letterman Digital Arts Center (Industrial Light and Magic)
10) The Embarcadero
11) San Francisco Exploratorium science museum
View Larger Map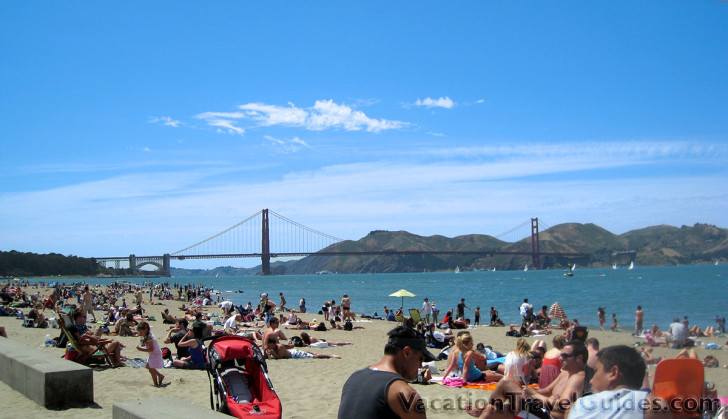 California – San Francisco – Golden Gate Bridge and Beach