San Diego
San Diego Overview
San Diego was one of the first major settlements established by Spanish explorers in the 18th century, and its Point Loma is the first place Europeans came ashore in California. Its beautiful bay made it a natural base for further colonists who used San Diego for travel further north. After California came under American control and the gold rush began in 1848, San Diego was overshadowed by Los Angeles and San Francisco to the north. However, the city benefited from the military. First the Navy established a fueling station and training base there, and then an Army base followed (which was later redeveloped as a Marine Air Corps station). San Diego's rich, warm waters also made it a center of the deep-sea fishing and fish-packing industry.
Today, like many American cities, San Diego has lost some of its old industries but is still a hotspot for communications and biotech companies, as well as a favorite destination for beach lovers. San Diego travel attracts over 30 million people a year annually, drawn by its natural beauty and unique atmosphere.
Visit San Diego
In comparison to some other popular California destinations — San Francisco with its crowded streets and high prices, and Los Angeles with its busy sprawl — San Diego can be appealingly low-key. The pleasant year-round climate and natural beauty of San Diego make it easy to relax, and there's no shortage of parks, beaches, and nature trails where you can just get out and enjoy the weather. San Diego is also a great place to take your family. Vacationers with kids will appreciate San Diego's many family-friendly attractions, including the San Diego Zoo, SeaWorld, and Legoland.
While San Diego may not be as vital a port as it once was, a lot of the city's life still revolves around the water, and you'll inevitably find your San Diego travel drawing you in that direction. Whether it's simply hitting one of San Diego's excellent beaches or taking a harbor cruise, strolling around the seaside resorts of La Jolla and Coronado Island, or trying your luck on a sportfishing boat, San Diego is the place for fun on the water. The city also boasts many outstanding aquariums, and the San Diego Zoo is internationally recognized as one of America's best.
Fall is possibly the best time for San Diego travel, offering all the warmth and great weather of summer with less crowding. Spring can be a riskier proposition. While temperatures are still pleasant as always, the water will still be chilly from winter and the weather tends to be gray and cloudy in May and June. Despite San Diego's reputation as a sun-soaked resort town, it actually gets heavy cloud cover for 100 days out of the year.
Top San Diego Activities & Things To Do
1) Go to Mission Beach, Pacific Beach, San Onofre, or another one of San Diego's beaches
2) Cruise the harbor
3) Relax in Balboa Park
4) Take a deep-sea sportfishing or whale-watching cruise
5) Hike the Torrey Pines Nature Reserve
6) Tour an active-duty Navy ship at Naval Station San Diego
7) Shop and stroll in Seaport Village
8) Tour the U.S. Olympic Training Center in Chula Vista
9) Ride the Giant Dipper at Belmont Park
10) Kayak the sea caves at La Jolla
Top San Diego Attractions and Sightseeing
1) San Diego Zoo and Safari Park
2) SeaWorld
3) Coronado Island
4) Gaslamp Quarter
5) Cabrillo National Monument
6) Old Town San Diego State Historic Park
7) La Jolla
8) USS Midway Aircraft Carrier
9) Legoland theme park
10) San Diego Maritime Museum
View Larger Map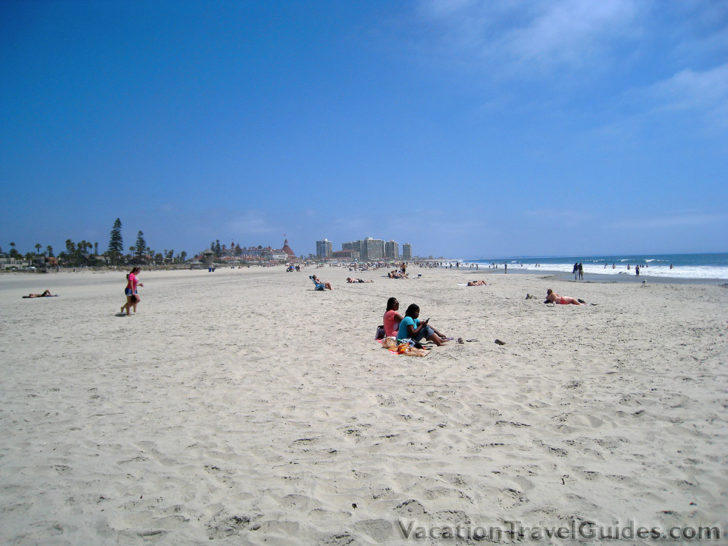 San Diego – Coronado Beach